Tara, UK, Spina Bifida. "You can't give up if it doesn't work at first – it takes practice and perseverance. Now I can empty my bowel when I want, not when my bowel wants".
There are many treatment options to help you manage your bowel, and you've probably tried one or more of these treatments at some point. Once you start using Peristeen, the first few weeks may feel a bit daunting as you adjust to your new routine, but once you establish a technique that works for you, Peristeen can help you regain control of your bowel.
All journeys to better bowel control are different
Regularly irrigating your bowels with water using Peristeen is effective - but bodies are different, and it can take time for your bowels to adapt to this new treatment. The bowels are actually one of the body parts that take the longest time to adjust to a new situation, so don't be disheartened if you need time to get it right. Adjusting to Peristeen is a journey, and we find that users typically follow three key phases: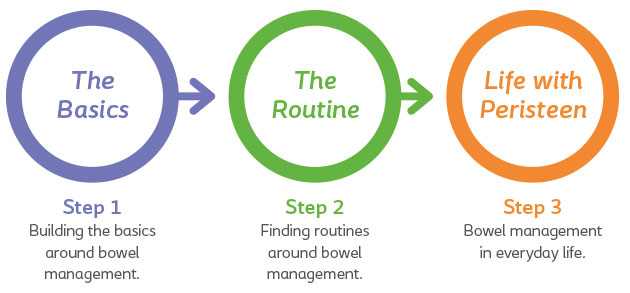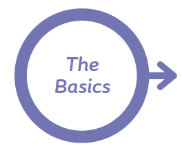 The Basics:
Success with Peristeen will take time. Your bowel needs to adjust to the treatment, so your first few irrigations may vary considerably. To make Peristeen work for you consistently, it's a case of learning the basics and becoming familiar with setting up and using the product in your bathroom.
Our experienced, qualified team can talk you through the below points to help you get off to the best start:
The Peristeen system - what it is and how it works
Storing, cleaning and maintaining the system
Preparing before you use Peristeen
Cleaning up after using Peristeen and disposing of components
Being able to identify when you have had a successful irrigation
Some people might find it more difficult adjusting to Peristeen than others, so it's important that you highlight any difficulties with our team so they can recommend adjustments to your routine if necessary. Remember, practice makes perfect, and succeeding with Peristeen is about finding a technique that works for you. Once you've mastered the basics, you'll have the perfect foundation for building a routine that will ensure you get the most from the treatment every time.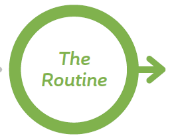 The Routine:
Once the basics are in place, it's important to establish a personal routine that you're comfortable with. You may need to experiment before you feel like your irrigations are working effectively. Most people will have established a routine after a few weeks, but it could take up to 3 months.
You may find that adjusting some things makes your routine easier and more comfortable. Remember, always consult your healthcare professional first to discuss changes to your recommended routine, or call our specialist team who will be able to advise you. They may recommend you adjust one or more of the factors below depending on the difficulties you're having with your routine:
Number of air pumps
Amount of water
Frequency of irrigation
Time of day
Diet

Life with Peristeen:
Life isn't going to change overnight, but once you've understood the basics and established a Peristeen routine that works for you, you will likely feel more confident and ready to tackle new goals. This could be travelling, returning to work, or kick-starting a new hobby. Keep challenging yourself and don't let your condition hold you back from trying new things. Always remember to stick to the good habits you've established.
Coloplast Charter can help you succeed with Peristeen
We're here to support you every step of the way on your journey with Peristeen. Don't hesitate to contact Coloplast Charter for further support and advice if you need it. Our dedicated advisers speak to Peristeen users all the time, so are in a great position to pass on tips, advice and the wisdom of other users' experiences.